Join now to become one of the 
+2,500 students, from +300 companies and +15 countries,
who successfully finished our e-learning.
Why we created this course
The world of work is undergoing major shifts due to the influence of constant change, globalization and uncertainty. Generation Y and Z already make up a large part of the workforce and their desire for self-determination, personal responsibility and meaningfulness are becoming an integral part of all major organizations.
At the same time, we have seen many companies who either have no structured approach on how they manage people, pay and performance - or, are unsatisfied with a rather traditional approach and yearly reviews or goal setting processes. In the context of agile leadership, the way we do performance appraisals, we give feedback, we pay salary and plan careers need to be rethought.
OKRs are a proven force to make strategies actionable, but can only develop their full potential, if they are supported by an modern performance management approach.
With this course we want to provide pragmatic support, clear recommendations and build the right know-how, so that more companies can develop the right prerequisites for OKRs to develop their full force.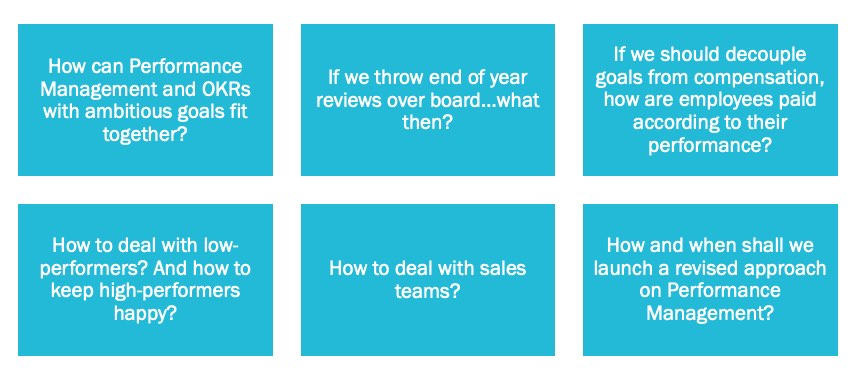 Your main challenges
We have collected your main challenges and will provide clarity and give options on how to deal with it.
Principles of modern performance management
You will be able to build your approach along these building blocks.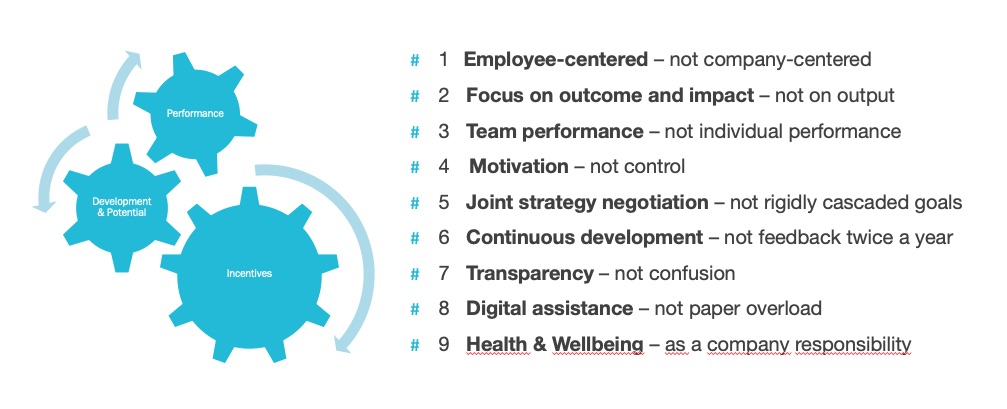 What you will learn
Our aim in this course is that you are able to identify what you should do, should not do or stop and therefore be able pick and choose a simple, agile approach that creates an impact. 
Our first module will provide an overview of the origins and the status quo of traditional performance management and compensation systems and why they need to change. Though you'd probably like to know how it's done right away, this is a good starting point to understand why things don't work anymore.
Module two is devoted entirely to the approach of agile performance management and New Pay, and we also look at the role of OKR. Each lesson contains a number of practical examples that will help you to choose the right measures to execute such a framework. 
The course ends with module three, which is about how to bring this into practice. We explain step by step on how to build a performance culture and how to realize an agile approach to the transformation process.

Throughout the course we have

collected

suggestions

and

best practice examples

. Remember, they are only options. Hence we recommend to take note of the measures, which are interesting for you.

While you are able to download things we recommend to take notes as we go, so that you are designing and building your own cheat sheet. Technically you can always go back in here, repeat or fast forward. 
We know you are busy, so set your own pace to go through the whole program.
Learning requirements
Anyone can successfully participate in this course who:
is managing people
is part of C-Level, Leadership Team, HR community
plans or is about to modernise the way to manage people, pay and performance
runs OKRs already or plans to introduce OKRs
brings along first professional experience in performance management
understands English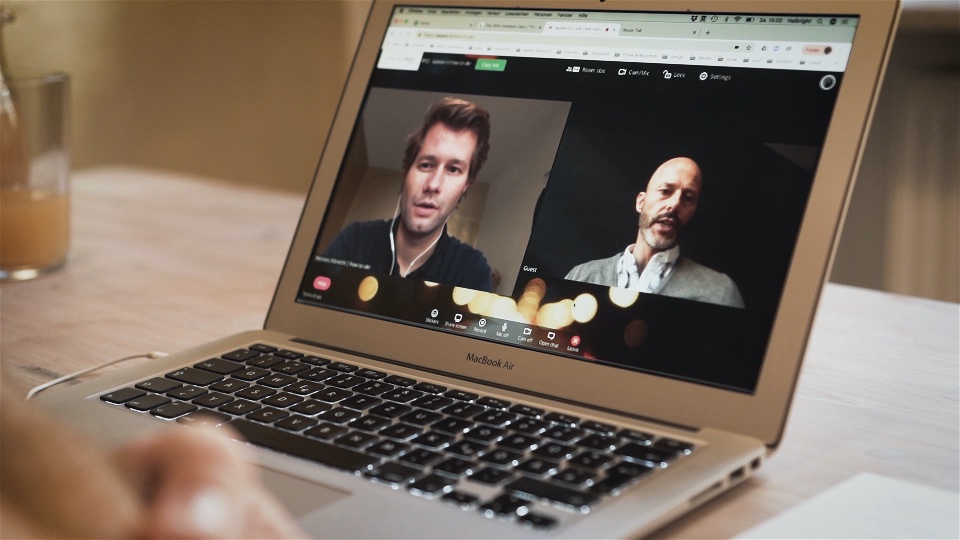 "This course summarizes everything that one should know about the new approach to performance management."
"The concept fits 100% to the current cultural evolution of organisations and the urgent needs of todays work environment."
"Appreciate the precise explanations and helpful options to drive this change."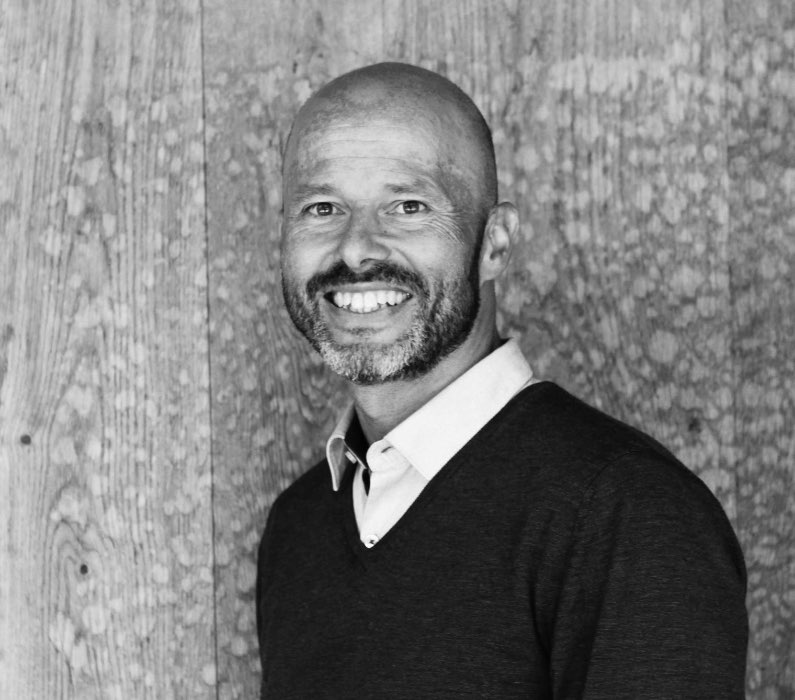 Hannes Albrecht
My name is Hannes Albrecht - I am your course instructor and will accompany you on your learning journey to an agile performance management for the next 3 modules. 
I live in Germany, near Munich. I look back to more than 15 years of leadership and management experience in fast-growing corporate structures. In various positions at well-known brands I've been responsible for marketing and sales during growth periods. As member of the board and other senior management positions, I have built teams and enjoyed leading people. Since 2013 I run how-to-OKR.com so I'm entirely specialized on helping teams and organisations to get up to speed with Objectives and Key Results.
Now, Humans spend a huge amount of our awake and energized hours at work. We are demanding more from work than ever. The paycheck is no longer enough. 
What humans need and how we reconcile their evolving needs with the needs of the organization has been a focus of mine for many years now. 
Enjoy the journey and have fun!
Frequently Asked Questions
Is this the right program for me?
Within net 2,5h you will be seeing things much clearer and be able to start building your transformation plan. So if you are part of C-Level, Leadership Team or the HR community and plan to redesign the way you manage people, pay and performance - or need the right level of know-how to drive such a change, then this course is perfect. You do not need to run OKRs already or be an OKR expert.
Who is your coach and trainer?
All courses and -optional - coachings later, will be conducted by Hannes Albrecht and Magdalena Pire Schmidt. Both are OKR practitioners, people managers and have held various positions at well-known brands during growth periods. How-to-OKR.com is specialized on OKRs since 2013 and has coached and consulted numerous international clients of all different sizes.
When can I start the program?
You can enroll at any time and start your journey to learn everything you need to design a modern performance management .
How long does it take to complete each module?
Net total time of content is 2,5h. However there are additional downloads, best practice examples, guiding questions and links to read. We know you are juggling work and private life in addition to this course, so we wanted to make it as easy as possible to tackle. That's why you can set your own pace and plan how to manage this program, so that it fits your schedule. Have a 15 minute waiting time at the airport? Complete a section! Find yourself on a long lunch break? Do a full chapter! This really is a digestible, easy to complete program. So you can do it whenever you want and it's definitely possible even with a full-time job.
How long do I have access to the course?
How does 1 full year sound? After enrolling, you have a full year access to this course incl. all updates and downloads.
In which language is the course?
All of our videos and learning material are prepared in English. Hannes, the trainer is German, so yes he can't hide his accent ;-)
Will I receive a certificate at the end of the course?
You're going to receive a certificate upon completion of this course to proof your participation in this program and reflect your efforts.
I'm from outside the United States and Germany. Can I enroll?
Absolutely! The course content is not bound to any countries or cultures. The change is triggered by people - our employees. We have conducted trainings already in Germany, France, the U.S., the U.K., Denmark, Austria, Switzerland, Canada, Poland, UAE, Saudi Arabia, Turkey, Brazil, Chile, Italy, Romania and Spain. We welcome people from all over the world and have selected examples from different countries. If your billing address is in the EU, your local tax will be added to the course price.
I'm part of a larger group and interested providing access to "How to Design a Modern Performance Management " to my teams- is this the right course?
Absolutely! Reach out to [email protected] for more information and bulk pricing.
What if I am unhappy with the course?
We would never want you to be unhappy! If you are unsatisfied with your purchase and you contact us in writing to [email protected] within the first 5 days of class, we will give you a full refund. We assume that you do not progress through the whole class with all downloads in case you are not satisfied.